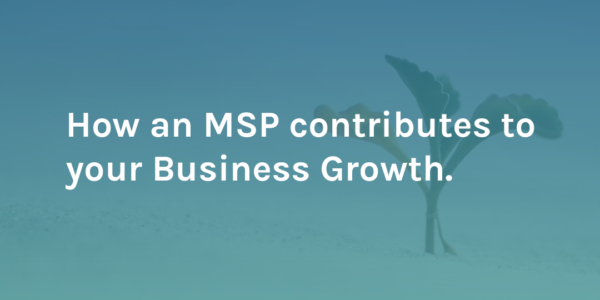 ---
Managed Service Providers (MSPs) work with businesses by taking a proactive approach to managing their IT needs. They work to ensure your IT infrastructure stays up-to-date and functions correctly. 
Having a team of dedicated technology experts available to you 24/7/365 is vital in keeping your business running smoothly and preventing any tech-related issues that cause revenue loss due to lost productivity, downtime, or data breaches.
You may be wondering if hiring an MSP is right for your business. If so, keep reading to learn more about the benefits of an MSP and how one can contribute to your business growth. 
Cost-Effective
An MSP can reduce your IT budget, which is very cost-effective for your business. 
Your service agreement is a fixed fee per month or year, so there are no surprises regarding your IT costs like other IT models such as break/fix. You can also tailor your service agreement to meet your needs and fit within your budget, and over time, your MSP can suggest improvements to cut unnecessary costs.
With an MSP at your disposal, you're able to avoid costly downtime because they proactively monitor your IT infrastructure and prevent foreseeable issues from occurring. You can also increase your productivity because an MSP frees up your staff and resources allowing you and your team to focus on running your business more efficiently.
Increases Security & Compliance
Security and compliance are two major concerns for every business, especially those handling personal data for clients or customers. With the right MSP on your team, you will be able to rest easy knowing your data is safe and your business is compliant.
MSPs take your data security seriously and will set your business up with active monitoring and enhanced firewall security to prevent cyberattacks. An MSP will also provide educational opportunities and training to ensure your team is up-to-date on cybersecurity best practices.
On top of data security, your MSP will ensure your software is set up to comply with regulations such as GDPR, PCI, and ISO.
Reduces Risk
Similar to what we mentioned with security, your tech experts will reduce your risk regarding data, such as minimizing cyber threats or data loss. When it comes to data security, backing up your data is just as important as protecting it from attacks.
Unfortunately, things can often go wrong with technology, such as overheating and frying. Because of these unknown risks, it's essential to keep data backups on and off-site to reduce the risk of data loss.
An MSP not only handles your data backup schedule but also helps you develop a disaster recovery plan in the event of a cyberattack.
Scales with Your Business
As your business grows, your technology will need to grow with it. When you hire a new employee, they'll need a workstation set up and configured to how the rest of the business operates. Having an MSP experienced with your business on hand makes this process a lot easier. They'll be able to integrate everything smoothly, allowing new employees to get going quicker.
Your MSP will also suggest IT infrastructure that will scale with your business instead of hardware or software that you will outgrow in a year or two. Technology isn't cheap, so it's essential to invest in the right tech to avoid upgrading again in the near future. If you're not technologically inclined, your dedicated tech team can help steer you in the right direction and provide you with the right options for your business. 
Frees Up Resources
If your business doesn't have an in-house tech team, chances are your staff is spending countless hours on tech-related issues. While your staff may be able to solve some of your IT issues, if they aren't IT specialists, the time spent solving these issues is taking away from their day-to-day responsibilities, resulting in a loss of productivity and lack of functionality.
By hiring a team of technical experts, you can free up your staff to focus on their respective duties. This leads to increased productivity and efficiency, which results in more revenue.
Access to Experts 
Another advantage of an MSP is their knowledge and expertise regarding technology. With an MSP, their IT specialists have years of experience within the tech industry. This means they can help you stay competitive with the latest technology, keep your hardware and software updated, and implement changes efficiently and effectively.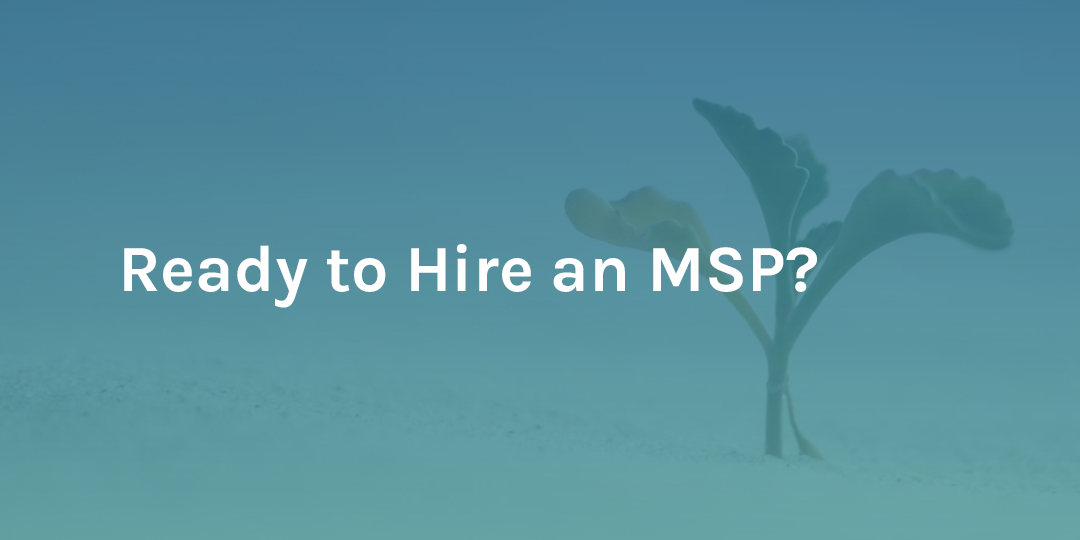 Ready to Hire an MSP?
Whether you're tired of overspending on your technology or you want to increase your team's productivity, with a team of experts just a phone call away, you'll be able to rest easy knowing your IT infrastructure is in good hands.
If you're ready to grow your business with managed IT, contact our team of IT experts to learn how we can help design and deliver a custom infrastructure to increase your productivity and efficiency.
---
Feel free to share our post among your friends and family