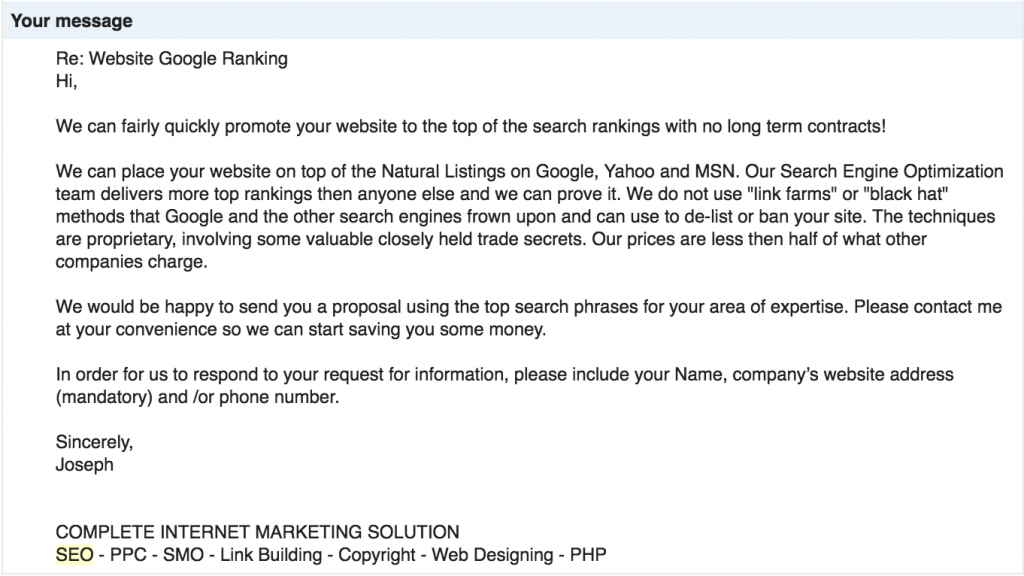 If you're a CEO, small or medium size business owner, marketing director, or in any type of administrative role I'm sure you've seen emails come through your inbox from companies offering a variety of different services when it comes to Search Engine Optimization. Even though we run our own web development and marketing company, we still receive one or two a day.
Over the last 7 years that we've been in existence (11 if we're counting EQHosting) and the last 16 years that I have been apart of this industry, I honestly say I've only seen a dozen or so really well constructed emails from reputable agencies and companies. So literally out of thousands of emails, only a dozen were impressive enough to me that if I was a consumer actually needing SEO services, I would reach out knowing that I would be talking to a real person about real strategy and a real plan to help my business.
What's bad about these emails is that they offer false hopes and really hurts the industry. Anyone reading this that really knows about SEO will agree with me – because sometimes we're on the other end of the table when a potential client brings up one of these fly by night companies and how they were ripped off, didn't see results, or even worse got locked into long term agreements with absolutely zero ROI. Now this doesn't happen very often, but when it does we show them the same preliminary strategizing and results that we would do with any other company, and assure them that the way we do SEO works, and although it's not going to happen overnight, the long term results are going to be huge and it will pay off. Not only are we selling them on working with EQ but we are selling them on the act of search engine optimization, and how it is beneficial to their web presence so that they are confident and comfortable that when it's done right, the ROI for their business will be there.
If you're a business in need of bringing more traffic to your site, creating content, management of your social media accounts, and want to take your web presence to the next level, get in touch with us at hello@eqtechgroup.com or 630-590-9998 and let's begin a conversation on how we can help.